Sunset Strip
Sunset Strip is located at the western tip of Top Camp. It's a strip from which you can view the Sunset. Contrary to popular opinion it was not directly named after the famed LA landmark, but for the 80s/early-90s Melbourne wild country rock band, whose singer completed a whole song at Meredith in 1993, thought to himself "gee that went well", looked at the set list and discovered he'd just played the song that was next on the list, whilst his band had been playing the previous song at the same time. They were all too 'lost in the moment' to realise.
The star of the show here is the sun, or more accurately, the sunset. A large gathering has happened in recent years to watch and even cheer as the sun finally dips below the horizon. Apart from the vast sky and fading pastoral views, there's a couple of haysheds and  a deserted gold mine in the distance, and a few dozen gigantic wind turbines.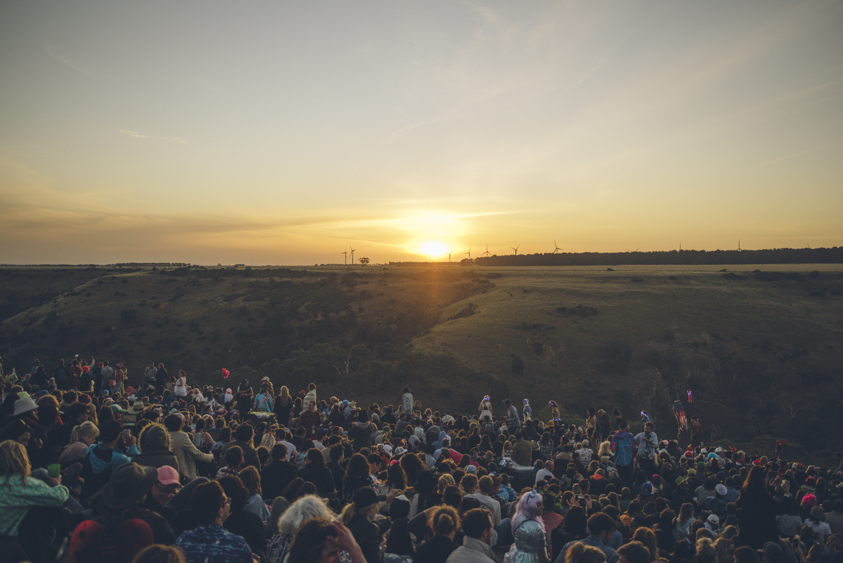 Uncle Doug did a lot of work sealing up the viewing area, removing rocks and growing grass and trees to allow for more comfortable sunset views.
Someone once told me that looking at a setting sun somehow releases lithium into your system. Lithium is (or was) sometimes used as a medication to calm down people who were manic. Dunno if that's true or not. If you are some kind of medical expert, feel free to set me straight.